17th DECEMBER EXHIBITION-EVENT
" HYBRIDE II " NOIR artist
❤️CHARITY SALE FOR THE BENEFIT
OF HANDIPEOPLE.be❤️
During 2 Special Christmas Week-ends of Brussels Makers Market (BMM), 
at the Gare Maritime / Tour & Taxis.
LIVE PAINTING
NOIR artist has created the original painting
for the Mystery Work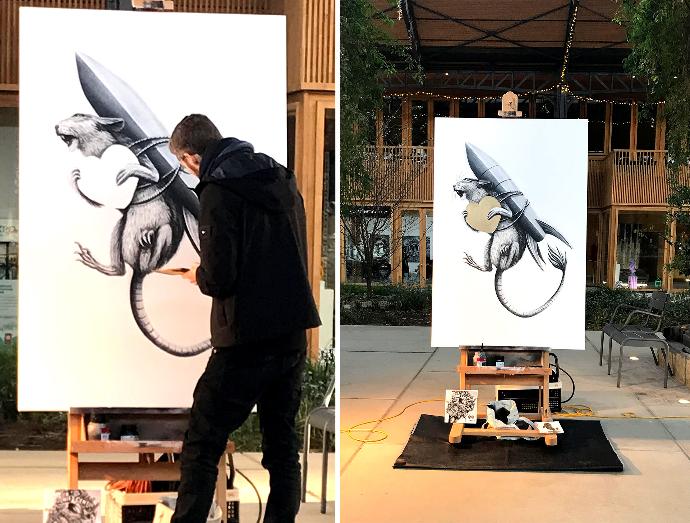 65 people registered for this event on Saturday 17 December. They were able to discover the mystery work of
Noir Artist
specially created for the benefit of the
HANDIPEOPLE.BE
cause, hosted by Hanane Ryasindi, a very active member of the
ART-NFT.GALLERY club
.
Emotions, discoveries, exchanges and sharing were the key words generated during these 2 weekends
Brussels Makers Market
"special Christmas".
Limited edition, numbered and signed art reproduction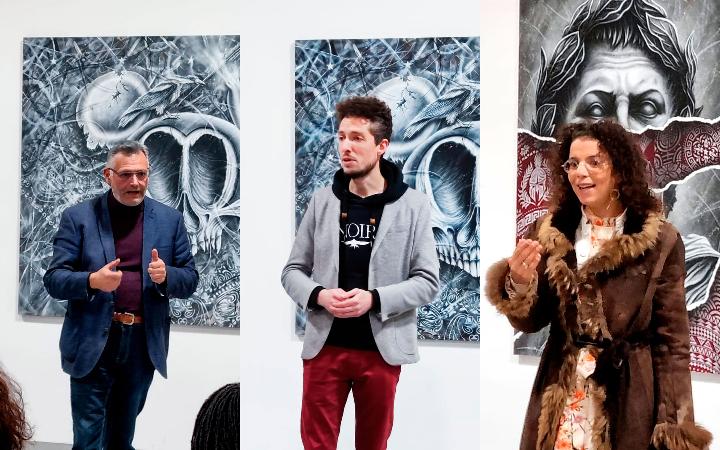 « How can we be happy with our differences in our society? »

I have spoken to each of you, giving you a part of my life
and my differences! You have spoken by submitting yours to me
without the fear of judgement.
For me it was already a challenge taken up: to make you leave with the awareness that
you are each exceptional

Supporting the Handipeople.be association, which raises awareness of empathy and tolerance towards of difference.
NOIR artist
« Humanist and committed art »

Noir Artist is actually two brothers, Lucien and Martin Gilson. One creates, while the other handles the contact side of things. Both of them are all about elegance, humour, and humility. Together they intend to bring to light, through art, "a society that wants to be more positive, more respectful of humankind in general and of young people in particular".
Having attended Saint-Luc art school in Liège, Lucien is attracted by the creative, collagist aspects of what he sees around him. Through paintings, drawings, monumental frescoes, murals, trompe-l'oeil, decoration, and urban design, he explores a gloomy world seething with tension. Constantly in search of new forms and new media, he is developing a trademark graphic style. He works with spray cans as well as brushes. He tears paper, and is inspired by advertising and superheroes. He uses virtual reality to produce drafts, and is even open to integrating sculpture into his works. Over time, he adds touches of gold or colour to them, even as he keeps the various shades of black that are his signature.   Lucien and Martin Gilson live and work in Liège.


ART-NFT.GALLERY
The announcement, surprise and continuation ...

When the convergence between ART, COMMUNICATION and NETWORK SHARING for the benefit of a cause takes on its full meaning, such is the credo of ART-NFT.GALLERY, the WEB3 ecosystem at the service of artists, gallery owners, collectors, brands and projects that make and give meaning.
Many of you joined us and we were happy to share this moment with you.
Thank you for your presence and for supporting our project ART NFT Gallery