🌟🌟DECEMBER EXHIBITION-EVENT
🌟🌟
HYBRIDE II "NOIR artist"
❤️CHARITY SALE FOR THE BENEFIT OF HANDIPEOPLE.be❤️
During the Brussels Makers Market (BMM) 
week-end (17 & 18 december),
at the Gare Maritime / Tour & Taxis,
LIVE : NOIR artist will create an original painting on saturday 17 december.
The artist " NOIR artist " will be celebrated in a HYBRIDE way (physical and digital) by ART-NFT.GALLERY throughout December.  We have imagined an exhibition event in which you are all invited to participate. HOW CAN YOU PARTICIPATE? 
1. Registering for the opening of the exhibition on Thursday 1st December from 18H00.
You will meet the artist and see some twenty of his physical works and a some NFTs. Places are limited! So register quickly here 
https://bxl.art-nft.gallery/event/hybride-ii-23/register 
You will get the artist's catalogue.

2. By pre-ordering a limited reproduction of a future work numbered and signed by the artist. This original and exclusive panting will be created in "LIVE" for the benefit of the association HANDIPEOPLE.BE on Saturday 17 December during the "Brussels Makers Market" (BMM), which will take place in the centre of the Maritime Station on Saturday 17 and Sunday 18 December. During this weekend you can enjoy the exhibition in the gallery, meet the artist and understand his art during his Art live (17 Dec.).

From December 1er to midnight on December 16th, the pre-order price of this future limited edition will be only 100€ for a 50cmx70cm size.
PRE-ORDER: https://bxl.art-nft.gallery/fr/shop/noir-artist-art-print-120

From Saturday 17 December until the end of December, the price of this future limited edition (70x50cm format) will be 150€.

Deliveries will start at the beginning of 2003. 
 
Each print will be numbered, dated and signed by the artist. 
Profits from this sale will be donated to the non-profit organization HANDIPEOPLE.be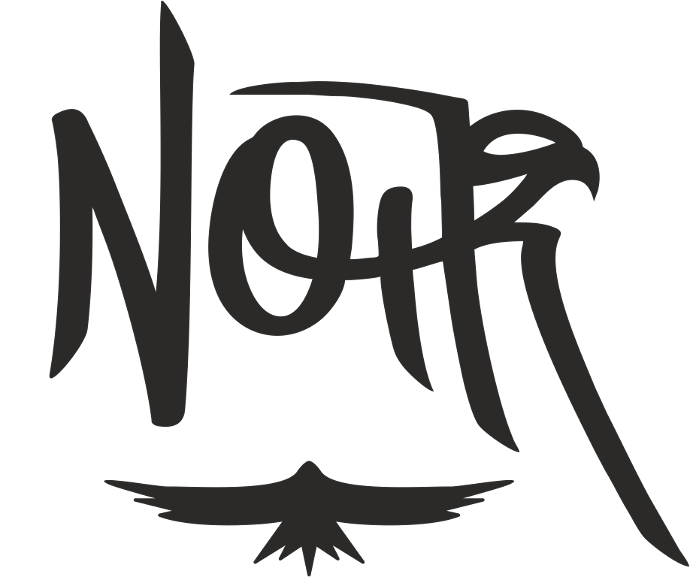 Two brothers,
Lucien and Martin Gilson.
One creates, while the other handles the contact side of things. Both of them are all about elegance, humour, and humility. Together they intend to bring to light, through art, "a society that wants to be more positive, more respectful of humankind in general and of young people in particular".

Having attended Saint-Luc art school in Liège, Lucien is attracted by the creative, collagist aspects of what he sees around him. Through paintings, drawings, monumental frescoes, murals, trompe-l'oeil, decoration, and urban design, he explores a gloomy world seething with tension. Constantly in search of new forms and new media, he is developing a trademark graphic style. He works with spray cans as well as brushes. He tears paper, and is inspired by advertising and superheroes. He uses virtual reality to produce drafts, and is even open to integrating sculpture into his works. Over time, he adds touches of gold or colour to them, even as he keeps the various shades of black that are his signature.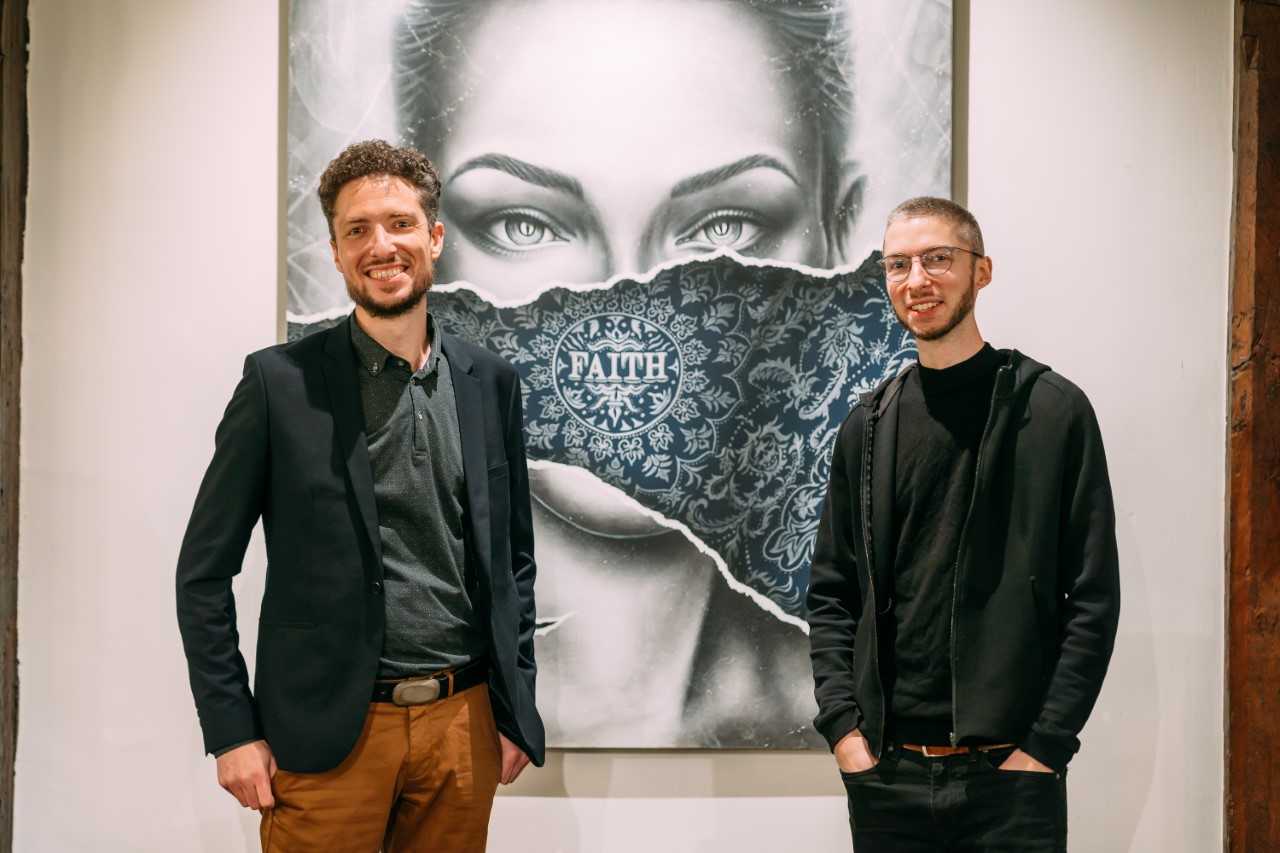 This past year has given Lucien and Martin Gilson, alias NOIR artist, time to come up with ideas, and tu put them in action.
It has been a luxury for these not-quite-Millennials, who were born "between the dot-com bubble and the gearing up of a society of over -consumption"..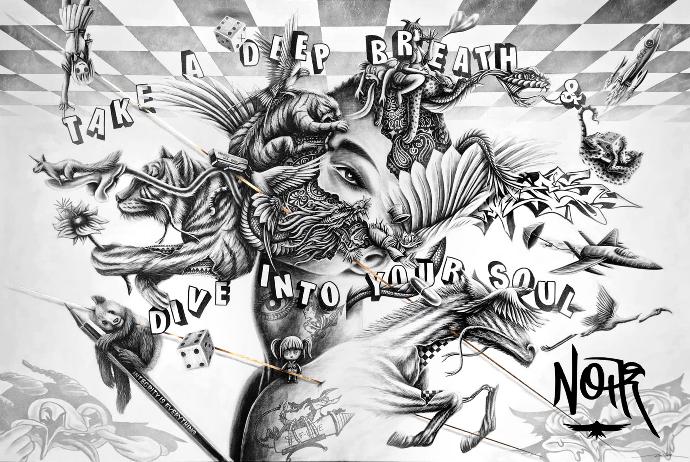 " I have always been fascinated by the ephemeral nature of things, the speed at which information comes and goes, advertisements on every street corner and magazine page.
Our eyes become slaves without our event noticing. The themes in my work have naturally focused on the observation that contemporary men and women are gradually losing their vision of what constitutes beauty, in a world where they are assaulted by a little bit more superfluous information every day. In my work, there is no obvious connection between the different characters and texts.

My works are often saturated with information. There is very little beathing space. The eye cannot rest. This is the best way for me to paint a "mirror" of society, as I feel it."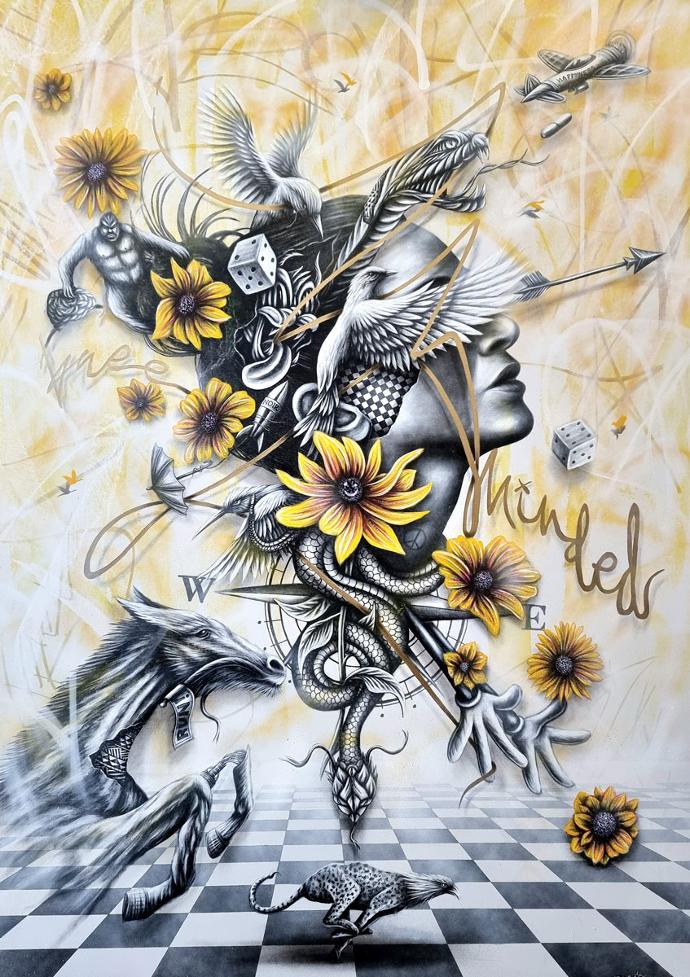 The Good Cause of Hanane RISAYINDI
the communication manager of the association
PARTHAGES.BE
on Saturday 17 NOV at 4pm
 
She promotes "reverse inclusion" by asking pertinent questions such as
Why and how to improve the inclusion of people
with disabilities in our society on a daily basis?